The phrases "spending your time wisely" and "social media" aren't ones that normally go together if we're really be honest … unless, you're a marketer of course, and then all the hours you spend scrolling down your Facebook feed are really market research, right? Here at Bing Bang, we're all about leveraging the power of content (especially video production) to help our Des Moines marketing clients make a big splash with their social media marketing efforts.
 So Much Media, So Little Time …
When you hear the term social media these days, it's not just Facebook. That's so 2007 … Mark Zuckerberg's social media giant may be more than a decade old, but it still packs a punch for marketers because it helps marketers target their audience better than any other platform and provides the most information to marketers on reach and engagement – allowing you to see the proof that your marketing is working. Now, there's Instagram, Twitter, Snapchat, LinkedIn, Tinder (whoops, wrong list) … and the list goes on.
So, as a marketer with a limited amount of time, and a specific brand to blow up on social media, the question becomes: Where should you spend your time and budget dollars as a brand to create content and promote that content?
Frankly, it's all demographics, my dear …
Like all things in the wonderfully subjective world of marketing, there's no exact science or marketing mix for what platforms you should be spending your time on. Instead, base your plan around your brand. You know its needs (and if you don't, check out our blog!), strengths, weaknesses, and the demographics of the folks who live on each different social media platform.
Here are a few social media maxims you can keep in mind:
Don't Make It Complicated.
Everybody from 13-year olds (well, the 13-year olds are too cool for it but stay on it because of Grandma) to the aforementioned Grandma now spend way too many of their waking hours on Facebook. At this point, if you're looking to maximize your reach on social media, Facebook is still the primary channel of choice for marketers to reach a diverse audience with content. It's a juggernaut, and your brand needs to have a strong presence there. Facebook offers a wealth of reporting and allows marketers to drill down to get some top quality insights that allow you to adjust your campaigns on the fly and maximize your budget. Facebook also offers up an ever expanding roster of tactics to reach your audience – whether its lead ads baked into their interface, carousel or video ads. And they know A LOT about their users, which while somewhat creepy also allows you to serve your ads to the best audience, and waste very little of your ad budget.
Go Where the Young'uns Are.
Is your brand centered around the 34-and under demographic? Then it probably makes quite a bit of sense to live on Instagram and Snapchat as well. Your target demographics are spending a lot of their time online on these platforms. You better be there, too or your brand will become just a #latergram. Also, both Snapchat and Instagram have gotten into the advertising game.  The Facebook-owned Instagram relies on the powers of Facebook's advertising platform to provide increased information back to advertisers. Instagram is also looking to squash any of Snapchat's pretensions to social media network stardom by launching Instagram Stories and some brands are totally killing it. The Snapchat advertising platform has also grown recently as Snapchat has made its play to monetize some of their features such as lenses and filters. Check out how Taco Bell dominated Snap with their lense game on Cinco De Mayo. Mobile advertising is now part of Snapchat's repertoire, but a lot of brands aren't seeing the ROI out of Snapchat advertising they would like to see from the ad platform. All in all, time will tell on Snapchat.
 Overrated?
While it's certainly the favorite platform of certain heads of state and lots of media companies, Twitter has really struggled to find its footing when it comes to providing value back to marketers. Its user base has stagnated at a little over 300 million, and it seems to be best suited to media and political messaging, although there are a few brands that really kick butt at Twitter like Arby's and Wendy's.
Specific Can Be Best.
Are you a B2B brand? LinkedIn might be the place for your brand to hang out, and when we say hang out, we mean post content that establishes you as a thought leader and expert in your business segment. LinkedIn is where companies go to when it's time to mine for new business, look for highly qualified talent and network. We suggest posting a minimum of 4 – 5 times a month if you want to make a push to engage with your audience on LinkedIn.
Another social media platform that has us intrigued? Pinterest. Especially for our retail clients and marketers.  It's not just recipes, people (Though who owns a cookbook anymore?). It's been proven the Pinterest is used for shopping – and Pinterest targeting advertising can drive in-store sales. If you're trying to reach women under 40 with disposable income – Pinterest is probably worth trying. In the past couple of years, they have also been beefing up their targeting tools so advertisers can get more bang for their buck.
Look at Dat Video.
Remember when your days weren't spent watching YouTube videos? Thank goodness those days are long over, but don't forget YouTube amidst all the trendy apps and platforms. There's major room for advertisers to dominate in the YouTube space – it's all about having the right content. We love Geico's play on this. Clever is better when it comes to maximizing your play and your user's attention on YouTube. Don't just re-use an old TV spot or chop up a 1:00 long video. Instead, focus on grabbing the attention of your audience with an unmissable first five seconds.
Need help determining your social media marketing mix or creating your next killer pre-roll ad for YouTube? Holler at us and we'll help!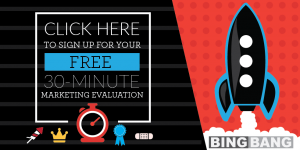 We'll even throw in a Pinterest recipe or two. 😉