There's an undeniable crispness in the air. Halloween and all its attendant atmospheric spookiness is here. The contrast between the red, brown and orange leaves and the deep blue of the autumn sky gives us Midwesterners an undeniably comfortable feeling. Folks are cozying up for the night with a glass of wine and their favorite Halloween movie (mine: Sleepy Hollow, peak Johnny Depp, pre-the scarf infestation). The pace of nature – and life – seems to slow as we begin to prepare for winter. It's a perfect time of year to take a long hike in the afternoon (and maybe leave your work for all your Des Moines marketing clients behind) to recharge and enjoy these last golden days before winter makes its arrival.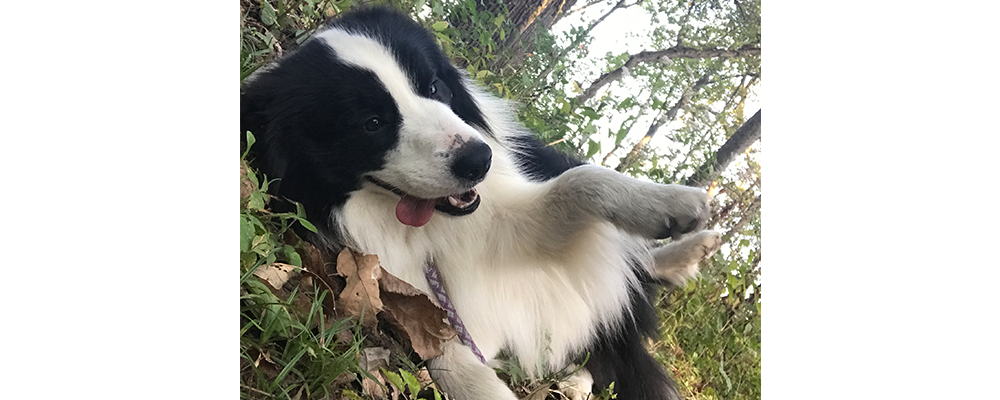 My favorite companion on a long hike (minus the adorable Matteo) is a great story – yes, I'm one of those podcast-obsessed peeps. There's nothing like putting in the ear buds in and being immersed in a some great, long-form audio storytelling. In this case, video hasn't killed the radio (err, audio) star.  
A Woman Alone In The Woods …  
A couple of notes: 1.) Yes, I realize wearing earbuds while hiking in the woods with my dog makes me a prime candidate to be Victim #1 in a horror flick (my secret weapon: I'm not blonde). 2.) Yes, we do get the irony of one of the premiere Des Moines video production teams making recommendations for audio-only media, but frankly, we just don't care – lots of us Bing Bangers love podcasts. Just because we're video nerds around here doesn't mean that we don't appreciate the importance of audio in elevating video – whether it's music or a beautifully-written voiceover or the atmospheric qualities of natural sound – in fact, it makes us appreciate audio storytelling even more.  
Who Loves Podcasts? We All Love Podcasts.  
And, it's not just us! The podcast train is rapidly leaving the station – journalists, brands and just the most random assortment of people ever (seriously, there is a podcast for every topic!) are jumping on this runaway train, and producing some content that veers from the highest of quality and production value to some fairly basic set-ups.  To keep this legit, let me throw some podcast factoids your way: As of 2016, 21% of Americans age 12 or older have listened to a podcast in the past month (Pew Research Center, 2016). And those 20%+ of Americans are consuming 5 shows per week on average (Edison Research, 2016). That's a lot of podcasts! 
With today being Halloween, it seems like just the right time to offer some spooky podcast recommendations. These podcasters really take scary storytelling around the metaphorical campfire to the next level.  
Snap Judgment – Spooked: A spin-off of the runaway hit Snap Judgment, Spooked features people just like you and me and their crazy, maybe, just, maybe, supernatural experiences. Your one comfort as you're afraid to turn off the lights post-listening? The stories are told in the first person, so you know they survived … so far, anyway…  
Lore: This is a venerable entrant in the crowded podcast landscape. Lore is consistently at the top of the podcast charts (yes, there is such a thing), and Lore's creator Aaron Mahnke does such a great job researching and narrating his tales that you get to be freaked out while learning about the intersection of culture, mythology, folklore and history. I just listened to the episode Familiar, which did a great job of unpacking all of our witchcraft tropes and the power in demonizing populations dubbed the Other. Lore is so popular, it's now a TV show – talk about breaking that fourth wall.  
 The Black Tapes: This podcast has been described as a mash-up of Serial and X-Files. Currently in its third season, I've been bingeing episodes to get caught up with the strange journey of journalist Alex Reagan and scientist, Dr. Richard Strand as they investigate various paranormal incidents across the Pacific Northwest and beyond. For lovers of This American Life and Serial (and who isn't?), you'll appreciate the on-point homage of the series all the while getting creeped out. 
So, get to downloading, and listening … and don't turn out the lights … 
Want to work with a crew to tell your own stories – audio, video or otherwise? Hit us up at Bing Bang! We're itching to add podcast producer to our business cards.