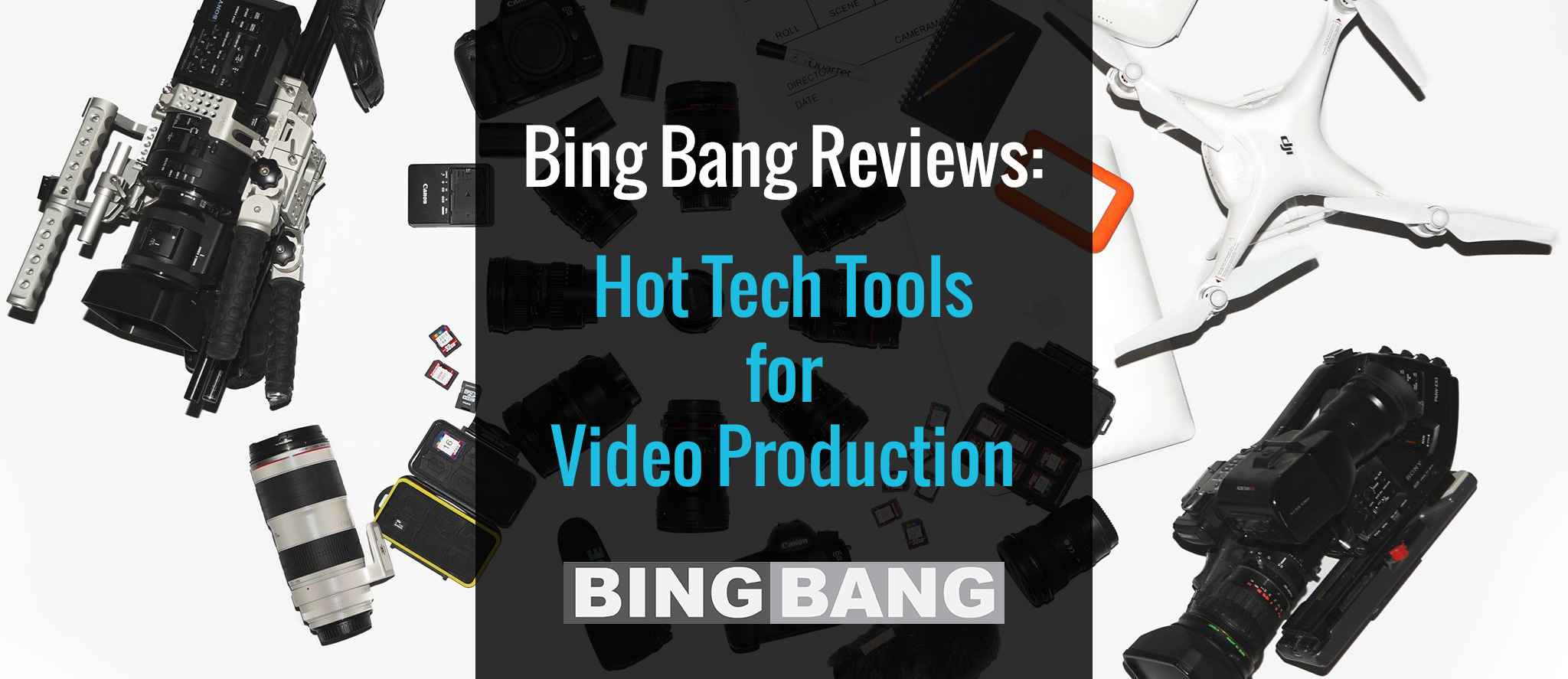 One of the biggest challenges for a video production team (and its budget) is staying on top of the latest technology in a quickly evolving video equipment scene.  Just a few years ago, gimbals and drones were just a glimmer in drone maker DJI's eyes, yet now they can change the things you're able to capture for your video production.  Bing Bang's video production team takes keeping up with technology seriously in order to get the best results for our video clients.
So, we compiled a list of six of our favorite pieces of video equipment that have us excited right now. This video gear isn't a "best" list – it's a list of new and exciting pieces of equipment that can give your production something different.  There are more expensive, more powerful video production toys out there, but these are the ones that stand out to us that will give your video something unique.
360 Video Camera: Garmin VIRB 360 
Virtual reality is here.  Virtual reality video is that next big thing in video production and it's highly applicable to many industries.  It's a way to truly immerse potential customers in your product and brand from wherever they may be.
One of the problems with many 360 degree video cameras is portability and the Garmin VIRB addresses that impressively.  The camera is easily mounted for portability – making action simple to capture.  The quality of the video is high – shooting 5.7K video and the camera actually stitches the video together automatically saving your team editing time.  Add to that the sensors that capture data for augmented reality overlays like speed, altitude, G-forces – this is one action-ready camera that will change the way you shoot 360 degree video.
You've probably seen a lot of drones taking off as popularity of using drones for photography and videography has skyrocketed.  But you haven't seen a lot of drones like this one.  The DJI Inspire 2 is in a class of its own – especially when paired with the Zenmuse X5S camera (albeit an expensive add-on).
You'll quickly realize that this is a much bigger bird to fly but it comes with benefits of a full range of motion from the camera, and the option to use one controller to fly the drone and another to operate the camera itself.  More benefits of the Inspire 2 include longer flight times, more accurate obstacle avoidance, the ability to program flights more effectively and anti-collision and accurate positioning systems that help decrease the risks of indoor flight.
Light: Wescott 5500 Ice Light 2 
Lights are critical to any videographer – you have to have something you can rely on, something that's versatile, and something that produces a lot of light.  LEDs have changed the way we purchase and light our videos and the Wescott 5500 Ice Light takes those LEDs one step further.  The Ice Light doesn't even look like a light.  It looks more like a lightsaber.  But its value is in its adapatability and portability.  No more huge bags of lights – these are compact and can run on batteries for up to 2 hours.  They also charge while being used plugged in.  Like most LEDs, these lights have the capability to adjust their intensity and color.
Their biggest drawback is in the power of light they produce – the lights have to be fairly close to the subject to get the best results, but the design of The Ice Light makes it easier to get creative in your light placement so that you can get the light close enough to your subject.
Your video can only do so much staying in one place.  But once you start moving the camera you have to make sure it's smooth.  In the past, that meant tracks, dollys and a lot of planning. Now, thanks to the DJI's Ronin series, you can mount your video camera to a Ronin and get smooth handheld motion to capture that perfect shot.
The Ronin 2 is a total redesign that addresses some of the most common issues with the Ronin line.  A series of dials make it easy to adjust balance on the fly while a dual battery system is hot-switchable meaning you don't have to turn off the Ronin to change batteries.  This edition of the Ronin also includes a digital control panel that will power and allow you full control of the Ronin and your camera without having to connect to an outside device.  In addition to new power capabilities, this Ronin will have your video production up and running in no time.
These are just a few of the pieces of gear that get our production team excited – we're constantly exploring new technology as fast as it is coming out.  Want your next video production project taken to the next level? Contact our team today!